Treatment for vascular disease in Gainesville, Florida
At The Heart & Vascular Center of North Florida Regional Medical Center, we offer surgical treatment options for patients with vascular disease. Vascular disease refers to a narrowing or blockage within the vascular system—including the veins and arteries—which carries blood from the heart throughout the rest of the body.
To learn more about our vascular services, please call our Consult-A-Nurse® team at (352) 333-4300.
Multidisciplinary approach to vascular care
Vascular disease may be a partial or total blockage of blood flow in a vein or artery. This can lead to more serious conditions, such as high blood pressure, heart attack, stroke, aneurysm, carotid artery disease and peripheral artery disease.
Because of the complexity of vascular disease, we employ a multidisciplinary vascular care team. This team includes specialists in:
Cardiovascular disease
Vascular surgery
Radiology
Vascular disease testing
An angiogram, or arteriogram, is a type of cardiovascular imaging used to diagnose vascular conditions. An angiogram is an advanced X-ray that uses special dye to view the inside of the arteries. It is useful in visualizing arteries throughout the body, including the heart, brain and kidneys.
Angiograms help our vascular doctors see how blood is moving through the arteries and evaluate any blocked or damaged arteries. Often, treatments can be performed at the same time as an angiogram.
Vascular treatment options
Our specialists combat vascular disease through heart and vascular surgery and minimally invasive endovascular procedures. Endovascular surgery is an option for many patients and offers a rapid recovery and positive patient outcomes.
We offer the following vascular surgeries: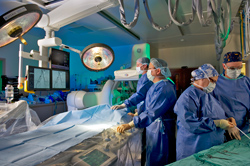 Abdominal aortic aneurysm repair—This procedure protects the portion of the aorta that has ballooned, causing a risk for rupture. For some patients, endovascular grafting is an option that uses minimally invasive methods to manipulate catheters to the aorta where a stent is placed to reinforce the weakened area. We also offer open surgical repairs, if needed.
Atherosclerosis endarterectomy—This open procedure removes plaque buildup from a blood vessel. The goal is to remove any buildup in the arteries that may affect blood flow.
Carotid endarterectomy—This type of endarterectomy removes plaque specifically from an artery that supplies blood to the brain. It is often recommended for patients who have already experienced a mild cerebrovascular accident (stroke).
Carotid artery stenting—This is a minimally invasive procedure used to open a partially blocked carotid artery, which is responsible for supplying blood to the brain. This method uses catheters to place a metal mesh tube, called a stent, inside the artery to keep it from narrowing.
Bypass surgery for vascular disease—A vascular bypass surgery reroutes blood flow around a blocked blood vessel to create a new pathway for blood flow using a graft. The goal of surgery is to bypass a blocked artery. This surgery improves blood supply and increases the oxygen supply to tissues that have been starved by poor circulation.
View preoperative guidelines
Hybrid procedures
Our surgeons also specialize in hybrid procedures, which are performed when a minimally invasive endovascular approach is not possible for an entire procedure. In these cases, we use an open surgical approach for the beginning of the procedure and remove any arterial blockages. After, we use an endovascular approach to repair the vessels below the blockage and place a stent.
By combining traditional and endovascular approaches in these hybrid procedures, we can offer minimally invasive treatments to more patients.
Vascular disease locations
Retrieving location data...