Emergency stroke care in Gainesville, Florida
North Florida Regional Medical Center offers fast, dedicated care to patients coming to our hospital with stroke symptoms. We are equipped with the resources and technology needed to quickly diagnose a stroke and begin lifesaving treatment.
If you think someone is having a stroke, call 911 immediately.
If you or someone you know is experiencing a stroke, it is good to know that expert emergency care is available in your community. Emergency stroke treatment is available in our hospital's main emergency room (ER) and at our two freestanding ER locations: Millhopper ER and West End ER.
Seeking emergency care is crucial when you identify stroke symptoms because time is of the essence. Our emergency care locations are always ready to provide evidence-based stroke treatment. We partner with local emergency medical services (EMS) personnel, so we know when to call a "stroke alert" to prepare for a patient's arrival.
In addition to calling "stroke alerts" in our ER, our team also responds to these alerts in other areas of our hospital. If a patient elsewhere in our facility is experiencing stroke symptoms, we are able to immediately respond, assess the situation and provide expedited treatment. We have staff members on-site 24/7 who are trained to respond in emergency stroke situations.
Recognition
---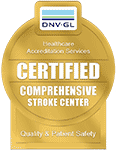 North Florida Regional Medical Center is recognized by DNV-GL as a Comprehensive Stroke Center.
Coordinated stroke treatment
Our hospital follows a program for stroke care that is designed to promote a full recovery. This includes:
Advanced imaging and diagnostics, including magnetic resonance imaging (MRI) and computed tomography (CT) and neurointerventional biplane angiography system
Inpatient rehabilitation, including physical therapy, occupational therapy and speech therapy
Telemedicine services available for real-time evaluation by a neurologist
Emergency care clinicians and support staff with training in acute stroke care
Neurocritical care-trained neurologists and cerebrovascular neurosurgeons and intensivists
Nurses and staff trained in neurological care and vascular interventional procedures
Stroke symptoms
Learn how to spot the signs of a stroke F.A.S.T:
F(ace)—Does one side of the face feel numb? Does one side of the face droop when smiling?
A(rms)—Does one arm feel weak or numb? Ask the person to raise both arms over their head. Does one arm drift downward?
S(peech)—Can you easily understand them when speaking? Are they slurring their speech? Can they repeat a simple sentence correctly?
T(ime)—If you identify one or more of these symptoms, a stroke may be occurring. Call 911 immediately, as receiving fast treatment is critical.
Types of stroke
There are two types of stroke and each is considered a medical emergency. A hemorrhagic stroke occurs when a blood vessel in the brain weakens and/or ruptures, causing blood to leak into the brain. This type of stroke is less common, but it is a very serious medical condition.
The majority of patients with stroke symptoms are experiencing an ischemic stroke. This type of stroke is caused by a blood clot in a blood vessel that supplies blood to the brain. When a blood clot begins to restrict blood flow to the brain, brain cells begin to die.
Interventional stroke treatments
We perform the following interventional procedures to treat strokes:
Brain aneurysm coiling—This procedure is performed to block blood flow to an aneurysm that is at risk for rupturing, which could cause a hemorrhagic stroke.
Carotid endarterectomy—This procedure removes plaque buildup from inside a carotid artery to restore normal blood flow. It is a preventive procedure for patients who are already experiencing symptoms of reduced blood flow and at risk for an ischemic stroke.
Cerebral arterial stenting—This procedure is done to widen an artery and place a stent to keep the artery open. This keeps the artery from narrowing due to plaque buildup and helps prevent an ischemic stroke.
Tissue plasminogen activator (tPA)—This is a clot-busting drug that breaks up blood clots causing an ischemic stroke.
Ischemic stroke treatment
The "standard of care" in treating an ischemic stroke is a medication called tissue plasminogen activator (tPA). This drug works quickly to dissolve blood clots and restore proper blood flow to the brain. When a patient with stroke symptoms arrives at our ER, we quickly assess to determine if they are able to receive tPA. Not every patient is a candidate for tPA, as it must be administered soon following the onset of stroke symptoms.
If a patient is eligible for tPA, an intravenous (IV) catheter will be placed and treatment will begin within minutes. Every second counts when treating a stroke because brain cells continue to die as the patient goes without treatment. Our time between patient entrance to the ER and administration of lifesaving treatment is less than the national average.
Mechanical thrombectomy
If a patient is not able to receive tPA for an ischemic stroke, our specialists offer an alternative treatment option that is available up to 24 hours after the onset of stroke symptoms. This treatment is a neurointerventional procedure called a mechanical thrombectomy.
This image-guided, minimally invasive procedure combines advanced technology, neurological imaging and endovascular techniques to restore blood flow. This is done by using a system of tiny catheters that are specially equipped to remove blood clots.
Once a blood clot is removed, blood begins to flow freely again. This allows the previously blocked portion of the brain to receive the blood supply it needs to survive.
---
---
Stroke locations
Retrieving location data...