Robotic-assisted surgery in Gainesville, Florida
North Florida Regional Medical Center is home to The Robotics Center, where our surgeons perform minimally invasive robotic surgery. Our surgeons use robot-assisted technology to perform general, gynecologic and urologic procedures. The advanced technologies in The Robotics Center allow our surgeons to take control of a state-of-the-art platform to perform procedures using small incisions.
For more information about robotic surgery, please call The Robotics Center at (855) 422-3624.
How robotic surgery works
Robotic surgery refers to the use of robotic-assisted technology in performing surgical procedures. The operating surgeon remains in control of the robotic surgical console during the entire procedure.
It is designed to take the surgeon's movements and translate them using specialized surgical instruments connected to the operating console. The movements are translated without the risk of human error, such as a hand tremor.
Robotic surgery offers surgeons increased visualization and greater surgical precision. The enhanced capabilities of surgeons also leads to numerous patient benefits.
View preoperative guidelines
Benefits of robotic surgery
Patients undergoing surgery using robot-assisted technology benefit from:
Faster recovery time
Fewer complications
Less blood loss
Less need for pain management
Less scarring
Shorter hospital stay
Smaller incisions
Our robotic technology
The Robotics Center boasts three specialized consoles for performing robotic surgery. One console is designed to perform robotic radiosurgery and offers a painless, noninvasive method of treating cancerous and noncancerous tumors.
We also offer a dedicated console for multi-dimensional, surgical spine imaging. This technology is used during complex spine procedures to create 3D images in the operating room. The surgeons use this 3D technology to precisely track their movement of surgical instruments in relation to a patient's anatomy.
Robotic-assisted general surgery
Many types of general surgery are performed with robotic-assisted technology. Robotic surgery is now an option for weight loss procedures, including gastric sleeve and gastric bypass.
It is also used in repairing inguinal, ventral and paraesophageal hernias and for patients undergoing certain types of colon surgery.
Robotic-assisted gynecologic surgery
We treat a range of gynecologic conditions at The Robotics Center. Our surgeons use robotic technology to perform:
Hysterectomy—Surgical removal of the uterus
Myomectomy—Surgical removal of uterine fibroids
Sacrocolpopexy—Surgical repair of uterine and/or vaginal vault prolapse
Ovarian cystectomy—Surgical removal of a cyst within an ovary
Oophorectomy—Surgical removal of the ovaries
Robotic-assisted orthopedic surgery
We use robotic technology in performing several types of orthopedic surgery, including total hip and knee replacement procedures. During surgery, we are able to place prosthetic implants with enhanced precision and operate with greater surgical dexterity. It also helps in the precise placement of the new joint, which leads to better joint function and positive patient outcomes.
Robotic-assisted urologic surgery
Urologic conditions are those that affect the urinary tract and male reproductive system. Surgical treatment is often needed to correct these conditions, such as urinary incontinence. Our surgeons use minimally invasive techniques that offer superior precision and help retain function, which is essential when dealing with the male sex organs.
Robotic surgery is an option for the following types of urologic surgery:
Prostatectomy—Surgical removal of the prostate gland
Nephrectomy—Surgical removal of the kidney(s)
Cystectomy—Surgical removal of part or all of the bladder
Single-site robotic surgery
Robotic surgery is now being used to perform single-site surgeries. This means that only one, small incision is needed, which reduces patients' chances for postoperative infection and speeds recovery times. Our surgeons perform single-site procedures for gallbladder removals and hysterectomies.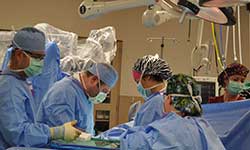 Robotic surgery locations
Retrieving location data...