Heart and Vascular Surgery at NFRMC
Cardiothoracic Surgery
The Heart & Vascular Center at North Florida regional Medical Center handles even the most complex operations - with success rates above the national average. Our cardiovascular surgical team includes board-certified surgeons, registered nurses and technicians with advanced training and a dedication to individualized patient care. This includes minimally invasive and robotic surgery, off-pump bypass and percutaneous procedures. Additionally, our surgeons continue to lead the nation in developing less invasive cardiac surgical techniques - allowing patients to recover much sooner.
For more information about our heart and vascular services, call us at (352) 333-4300.
Our multidisciplinary team in North Florida performs cardiovascular and thoracic surgery, delivering exceptional heart care for patients. Our services include:
Aortic surgery center: A center in which hybrid procedures are able to be combined into one personalized procedure. These hybrid procedures offer less invasive solutions for aortic disease.
Complex thoracic surgery: We offer a variety of procedures to treat diseases of the lungs and esophagus, such as lung cancer, pulmonary disease and esophageal cancer.
Endovascular surgery: We use catheter-based intervention technology and traditional surgical treatment for aneurysms, arterial disease and valvular disease.
High-risk valve clinic: Our team offers patient treatment options such as medical therapy, balloon valvuloplasty and transcatheter aortic valve replacement (TAVR).
Patients can also benefit from our hybrid operating room, a specialized operating space equipped with medical imaging devices. In this room, surgeons are able to perform both open and laparoscopic procedures in the same visit, preventing multiple procedures under anesthesia and reducing additional risks.
Comprehensive valve program
Through the Heart and Vascular Center, we offer a valve program that combines the efforts of referring physicians, cardiologists, and cardiovascular surgeons. These specialists collaborate to provide assessments and determine the best treatment options for patients with complex valve disorders.
Valve surgery
Blood is pumped through the heart in a single direction, which is facilitated by the heart's valves opening and closing with every heartbeat. When a valve becomes diseased or stops functioning properly, valve repair or replacement surgery is often needed.
Damage to the heart's valves can be caused by several factors, such as infection or congenital abnormalities. These conditions can lead to scarring or thickening of the heart's valves, which affects the valves' abilities to open and close properly. This means the heart has to work harder to pump blood throughout the body, and over time, this extra work puts a strain on the heart.
Surgical repair or replacement of a damaged valve will allow the heart to pump efficiently and reduce the additional strain. Depending on a patient's condition, it may be necessary to replace a damaged valve with an artificial valve.
Transcatheter aortic valve replacement (TAVR)
The TAVR procedure is a minimally invasive treatment used to replace a patient's aortic valve without removing the old, damaged valve. TAVR is an option for patients with severe aortic stenosis who may be too high risk for open-heart valve replacement surgery. During the TAVR procedure, the new valve is attached to a catheter and inserted into the femoral artery or into a small incision in the chest into the heart. The balloon is inflated to secure the new valve in place, directly over the old valve. Recovery is similar to a heart cath and the patient usually goes home the next day.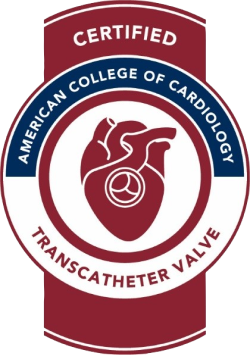 The Structural Heart Team at NFRMC has been awarded the Transcatheter Valve Certification from the American College of Cardiology. NFRMC is the first accredited Transcatheter valve center in the state of Florida and the 7th in the United States for their excellence in structural heart care.
Our valve program offers complete options for valve intervention, including:
Mitral and aortic valve repair
Transcatheter Aortic Valve Replacement (TAVR)
Transcatheter Mitral Valve Replacement (TMVR)
Catheter-based interventions
Mitral chordal replacement
Other minimally invasive and open surgical interventions
Cardiovascular surgeries we perform
The cardiac surgery team at our hospital performs between 500 and 600 procedures every year. While some patients only need one surgery, others may need more than one type of procedure. We provide compassionate, expert care throughout each patient's entire treatment plan and offer the latest in cardiovascular surgical treatment options.
Coronary artery bypass graft (CABG)
A CABG procedure is a surgical option for patients with severe coronary artery disease that are experiencing decreased blood flow to the heart. This is often the result of a condition called atherosclerosis—the hardening of the coronary arteries due to a buildup of plaque in the walls of the arteries.
CABG is used to improve blood flow to the heart by bypassing the blockage in the coronary artery. The surgeon will harvest a healthy artery or vein from the body and connect it to the blocked coronary artery. The grafted artery or vein bypasses the blocked portion of the artery.
Our surgeons have achieved complication rates significantly lower than the national average and have reduced the time a patient spends on a heart-lung machine during surgery. This means patients benefit from a faster recovery and improved outcomes.
Repair of congenital heart abnormalities
A congenital heart abnormality is a structural problem that is present at birth. Most of the time, these problems are repaired during infancy or early childhood. However, sometimes symptoms do not present themselves until adulthood. We offer treatment to adults experiencing these later-in-life symptoms.
We treat patients with a patent foramen ovale (PFO), which is a hole in the septum of the heart that did not close properly following birth. Our cardiologists use different devices to close a PFO depending on the size and location of the opening.
Our cardiologists also treat patients with atrial septal defects (ASD)—another type of congenital heart abnormality. During the procedure to close an ASD, the doctor inserts a catheter into a vein and threads it to the opening in the heart. The catheter is fitted with a tiny, umbrella-like device that is pushed out and positioned to plug the hole in the heart. Normal tissue will begin to grow over the device within six months.
If needed, PFOs and ASDs can be closed by our surgeons during another cardiac procedure, such as a CABG, valve repair or replacement or heart arrhythmia surgery.
You also have access to many other advanced surgical procedures at our hospital, including:
Atrial septal defect repair
Beating heart surgery
Coronary artery bypass surgery (CABG)
Heart valve surgery
Minimally invasive coronary bypass
Septal myectomy
Sternal reconstruction
Surgical procedures to treat heart failure
Surgical treatment for atrial fibrillation
Our Heart and Vascular Center is located on the North Florida Regional Medical Center campus. For more information or a consultation, please call (352) 333-4000.
Heart and vascular surgery locations
Retrieving location data...