Emergency room in Gainesville, Florida
When an emergency occurs, every second counts, and the quality of care you receive can make all the difference. The emergency room (ER) at North Florida Regional Medical Center is open 24/7, offering full-service care for adult and pediatric patients.
If you think you are experiencing a medical emergency, call 911 immediately.
Recognition
---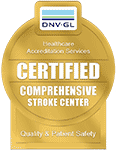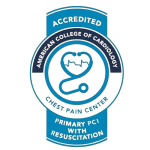 North Florida Regional Medical Center is recognized by DNV-GL as a Comprehensive Stroke Center. We are also recognized by the American College of Cardiology as an Accredited Chest Pain Center with PCI and Resuscitation.
---
---
Emergency heart attack treatment
Our hospital was the first in Gainesville to be recognized as an Accredited Chest Pain Center with PCI (percutaneous coronary intervention) by the American College of Cardiology. This means we are able to quickly diagnose and treat patients experiencing chest pain with excellent clinical outcomes. Our addition of the resuscitation accreditation recognizes that NFRMC also is equipped with a robust target temperature management (TTM) program which includes policies, procedures, and protocols for post–cardiac arrest treatment. Our facility also maintains a "No Diversion Policy" for out-of-hospital cardiac arrest patients.
The Heart and Vascular Center offers a range of treatments for patients who have experienced a heart attack, including coronary balloon angioplasty with stenting and cardiac rehabilitation.
Emergency stroke intervention
We are recognized as a Comprehensive Stroke Center by DNV-GL for providing quality patient outcomes and a wide range of interventional stroke services. A stroke is a serious medical emergency that requires prompt treatment to address decreased blood flow to or within the brain. The sooner treatment is administered, the better the outcome.
Our ER staff has extensive experience in identifying stroke symptoms, obtaining a fast diagnosis and quickly beginning treatment.
Fast ER services
To better serve patients in our ER, we have a designated Care Path area for patients with less severe medical emergencies. Care Path allows us to treat patients faster without compromising the quality of care.
Freestanding ERs
In addition to the ER at our hospital, we also have two freestanding ER locations throughout the Gainesville community. Our freestanding emergency clinics offer all the same services you would receive in our hospital ER. We are also able to easily transport patients to our hospital if continued care is needed.
Our freestanding ER locations include:
Real ER patient stories
Hear from patients who have received care in the ER at North Florida Regional Medical Center.
Emergency care locations
Retrieving location data...