Heart care at North Florida Regional Medical Center
North Florida Regional Medical Center is home to The Heart & Vascular Center, a full-service cardiovascular program serving patients throughout North Central Florida. Our cardiologists, vascular specialists, surgeons, nurses and clinical staff are dedicated to providing positive clinical outcomes in a caring, compassionate environment.
Our hospital is recognized by the American College of Cardiology as an Accredited Chest Pain Center with Primary PCI and Resuscitation. Hospitals that receive this designation must meet all requirements of the CPC with Primary PCI designation and will be equipped with a robust target temperature management (TTM) program which includes policies, procedures, and protocols for post–cardiac arrest treatment. These facilities must also maintain a "No Diversion Policy" for out-of-hospital cardiac arrest patients.
To learn more about our cardiovascular care, please call our Consult-A-Nurse® team at (352) 333-4300.
Over the years, our program has expanded to include vascular care, interventional cardiology procedures and a Structural Heart Program. We are recognized as leaders in our community for delivering quality cardiovascular care that is tailored to the unique needs of our patients.
Recognition
---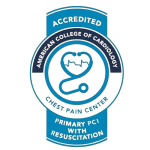 North Florida Regional Medical Center is recognized by the American College of Cardiology as an Accredited Chest Pain Center with Primary PCI (percutaneous coronary intervention).
NFRMC is also the first facility in Florida and the 7th in the nation to be accredited by the American College of Cardiology as a Transcatheter Aortic Valve Replacement certified facility. ACC's Transcatheter Valve Certification that shows our hospital meets and exceeds the standards for multidisciplinary teams, formalized training, shared decision-making and registry performance. The certification uses established national clinical measure data to support clinical decisions and link process improvement to patient outcomes. Hospitals that achieve Transcatheter Valve Certification demonstrate best practices for implementing evidence-based medicine to support decision-making in the care of individual patients.
Specialized heart imaging
Our hospital uses advanced imaging equipment for evaluating the heart's function. Heart imaging is crucial for visualizing the heart's structure and determining function. It also helps identify blockages in vital veins and arteries that can lead to severe conditions, such as a heart attack or cerebrovascular accident (stroke).
Our heart imaging services include:
Arterial ultrasound
Computed tomography (CT)
Echocardiogram
Electrocardiogram
Cardiac catheterization (cath) laboratories
Our hospital is home to three full-service cardiac cath labs. We perform a variety of procedures in our cath labs, but the main function is to perform cardiac catheterizations. These are procedures used to assess the structure and function of the heart's valves, chambers and coronary arteries.
During a cardiac catheterization, small, flexible tubes (called catheters) are inserted into the veins or arteries and guided to various chambers in the heart. The catheters are small enough to be passed through the blood vessels without patient discomfort. An X-ray dye is injected through the catheter and cameras are used to record images of blood flowing through the vessels.
For more information, please contact our cath lab team at (352) 333-4925.
Electrophysiology lab
Our cardiovascular team includes cardiac electrophysiologists who offer advanced care in the diagnosis and treatment of heart arrhythmias. Our hospital includes a dedicated laboratory for electrophysiology (EP) studies. These studies are a form of diagnostic testing used to study the heart's electrical system when abnormalities have been identified.
Treatments for heart arrhythmias may include:
Cardiac catheter ablation

Implantable cardioverter defibrillator (ICD) implantation

Permanent pacemaker placement

Maze Surgical treatment for arrhythmia
Vascular disease care
There are many types of vascular disease that affect the veins and arteries that make up the body's vascular system. Vascular disease occurs when a blood vessel becomes narrowed or blocked. This results in decreased blood flow to areas of the body, such as the lower extremities and brain.
We offer a variety of options to treat conditions such as atherosclerosis and abdominal aortic aneurysms. In addition to traditional, open surgical approaches, we also perform minimally invasive endovascular procedures. These procedures offer a faster recovery time and promising patient outcomes.
Cardiovascular surgery program
Our hospital offers patients a variety of cardiovascular surgical options for the treatment of heart and vascular conditions. We offer minimally invasive interventional cardiology procedures in addition to traditional open-heart surgery.
Our surgical services include:
Coronary artery bypass graft (CABG)
Repair of congenital heart abnormalities in adults
Cardiac rehabilitation program
Following a cardiac surgery or heart event, many patients will participate in cardiac rehabilitation. Cardiac rehab helps patients regain strength and provides education on healthy dietary and lifestyle changes.
We offer a three-phase cardiac rehabilitation program that focuses on monitored exercise and education on factors that contribute to heart disease, such as poor nutrition and high stress levels.
How to choose a cardiologist
Choosing a cardiologist is an important decision when it comes to your heart health. Your physician should be someone who readily listens to your concerns and has the experience to help you through difficult times.
Many cardiologist-to-patient relationships are long-term, which is why it is important to make the right choice about your physician from the beginning. We recommend beginning your search for a cardiologist while you are healthy. This ensures you are able to make a thorough decision unaffected by time restraints.
Ask your friends, coworkers and other health providers for their recommendations. See if their reasons for choosing a provider align with your individualized needs. The best referrals come from patients who have enjoyed a happy relationship with their physician for years.
Be sure to check if a physician is accepting new patients, and review their education, training and credentials. You will want to make sure they accept your health insurance plan. Also check to see if your health plan covers your preferred hospital.
Find a cardiologist
Cardiology locations
Retrieving location data...