Time loss is brain loss: If you or someone you are with is having a stroke, dial 911.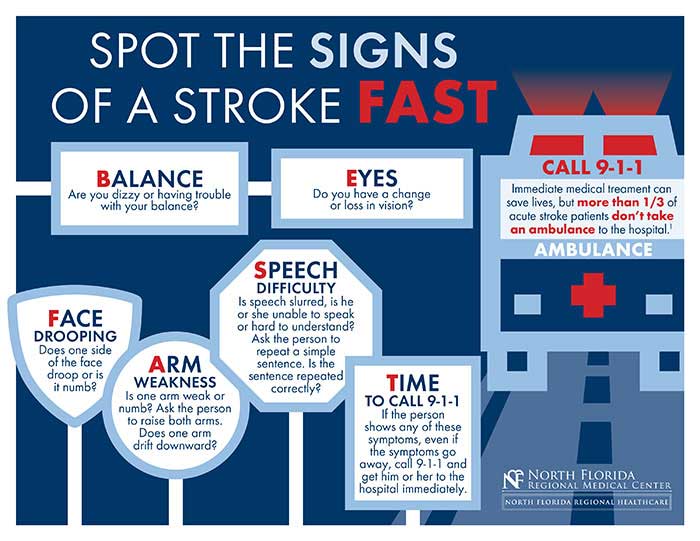 Spot the Signs of a Stroke Fast — Text Version
Spot the signs of a stroke FAST BALANCE: Are you dizzy or having trouble with your balance? EYES: Do you have a change or loss in vision? FACE DROOPING: Does one side of the face droop or is it numb? ARM WEAKNES: Is one arm weak or numb? Ask the person to raise both arms. Does one arm drift downward? SPEECH DIFFICULTY: Is speech slurred, is he or she unable to speak or hard to understand? Ask the person to repeat a simple sentence. Is the sentence repeated correctly? TIME TO CALL 9-1-1: If the person shows any of these symptoms, even if the symptoms go away, call 9-1-1 and get him or her to the hospital immediately. CALL 9-1-1: Immediate medical treatment can save lives, but more than 1/3 of acute stroke patients don't take an ambulance to the hospital.
Comprehensive Stroke Care right here in your community.
North Florida Regional Medical Center is a leader in our community for expert treatment and care of patients experiencing a stroke. A stroke can happen to anyone, anywhere, at any time of day. When someone develops symptoms of a stroke, every minute counts. We at NFRMC recognize stroke is a medical emergency. Our Emergency Department partners with the emergency medical services (EMS) in our community to ensure that patients with symptoms of stroke receive the best evidence-based care and treatments available, as quickly as possible, before they even arrive at the hospital, when possible. North Florida Regional Medical Center is staffed with a highly trained team of healthcare professionals with expertise in assessing, treating, and managing all types of strokes, regardless of how complex or severe.
Your Hospital for Comprehensive Stroke Care 24/7
---
Emergency Medicine Physicians
Endovascular Neurologists
Cerebrovascular Neurosurgeons
Intensivists
Neurohospitalists
Hospitalists
Radiology Staff
Dedicated Critical Care
Neuroscience Nurses
Physical Therapists
Occupational Therapists
Speech and Language Pathologists
Case Managers
Comprehensive Stroke Center Certification
---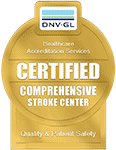 North Florida Regional Medical Center is proud to have a Comprehensive Stroke Center Certification from DVN-GL Healthcare. DNV GL's stroke certification programs incorporate elements from their NIAHO® hospital accreditation standards, as well as requirements from the Guidelines of the Brain Attack Coalition, and Recommendations of the American Stroke Association.