All of the physicians, nurses and other clinical caregivers who are part of The Sleep Disorders Center of North Florida Regional Healthcare are honored to care for the men and women who become their patients. Many patients say they were so impressed by their care, they are willing to share their stories so that others may learn about the advantages of sleep center technology makes possible. Here are some of their stories:
Dr. Lennox Archibald
Dr. Lennox Archibald's first visit to The Sleep Disorders Center was in early May 2011. He knew he needed to set up an appointment when he would wake up every morning feeling drowsy even with getting eight hours of sleep during the night. Continue reading...
Leann Slaughter
Leann made an appointment with The Sleep Disorders Center in February 2011 and had her hunch confirmed by Dr. Charles Nardi. She was fitted with a CPAP machine on her next visit, which has made a huge difference in her sleeping. Continue reading...
Matt Lucas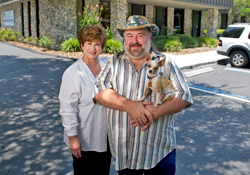 All Matt Lucas wants to do is sing country music and be able to stay awake during the day. The first part was not the issue; the latter was another story. Continue reading...