Download our Robotic Surgery brochure
Surgical teams at North Florida Regional Medical Center performed the first da Vinci® robotically-assisted single-site gallbladder removal in Alachua, Bradford and Marion Counties during a procedure performed by Surgeon Dr. Timothy Hipp in February of 2014.
"This procedure is the next step in our efforts to make surgery less invasive for our patient," Dr. Timothy Hipp says. "The da Vinci® Surgical System allows us to perform an almost incisionless gallbladder procedure with precision and high definition visualization."
Also in February, Gynecologist Dr. Anthony Agrios performed Gainesville's first robotic hysterectomy using single-site instruments. Dr. Agrios pioneered the technique for single-site hysterectomy prior to the development of single-site instruments for the da Vinci® System.
"Single-Site instruments used with the da Vinci platform are the next step in the evolution of surgical technologies," Dr. Agrios says. "We are truly excited to be a leader here in Gainesville in the robotic surgical treatment for tomorrow."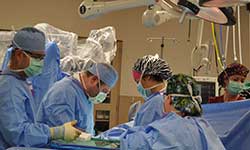 Dr. Timothy Hipp was assisted in performing the Gainesville area's first robotic single-site gallbladder for a patient who came to him from Jacksonville, Florida. Dr. Hipp was assisted by RNs Ashlie Cowart and Kim Minnis and by Surgical Techs Ian Calsam and Brittany Jochumsen.
Dr. Anthony Agrios was assisted in performing Gainesville's first hysterectomy using da Vinci® Single-Site instruments for a patient from Chiefland, Florida. Dr. Agrios was assisted by Monica Ramsey, RN and Surgical Techs Gomattie Ramprasad and Danielle Rowe.