All of the physicians, nurses and other clinical caregivers who are part of The Robotics Center of North Florida Regional Healthcare are honored to care for the men and women who become their patients. Many patients say they were so impressed by their care, they are willing to share their stories so that others may learn about the advantages that robotic technology makes possible. Here are some of their stories:
Gayathri's Story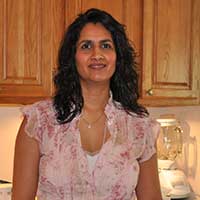 For years, gynecologists at North Florida Regional Medical Center have led the way for robotic surgery for women who live in and around Gainesville. Now, one of the leading robotic surgeons on staff at NFRMC is performing robotic hysterectomy through a single incision and says his work is a forerunner of other robotic procedures that will also be done through a single incision. This ground-breaking procedure was performed at NFRMC on November 18, 2010 by Anthony Agrios, MD, OBGYN and was the first of its kind in Gainesville. Continue reading...
Sonia's Story

Sonia Hylton is a happy and healthy 65-year-old enjoying retirement in Ocala. Or at least she thought she was until what happened one night that awoke her from her sleep. It was excessive bleeding, and it confused her at first. She and her husband actually looked for objects in her bed, thinking that caused the bleeding. They found nothing, and they both knew she needed to see her doctor. Continue reading...
Helen's Story
It was April 2010 and 63-year-old Helen Ann Noegel was getting ready to leave her Turkey Creek home and join her girlfriends for a play. Her cheeriness quickly faded into worry when she discovered blood in her urine. Fifteen years earlier, Helen Ann was diagnosed with multiple sclerosis (M.S.), an autoimmune disease that affects the brain and spinal cord. While there is no known cure for M.S., treatment focuses on controlling symptoms and helping retain a normal quality of life. Helen Ann has worked hard to keep her life and independence, and she knew that whatever her bleeding meant, she was ready to fight it. Continue reading...
Donna's Story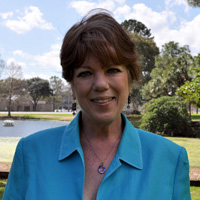 After mentioning to her physician that she had been experiencing post menopausal bleeding, Donna Mattei-O'Brien was diagnosed with stage II endometrial cancer. The 58-year-old woman remembers feeling devastated when she heard the news. Four years earlier, she had married her former high school sweetheart, Chuck, and she was looking forward to growing old with the man she loved. Continue reading...
Lucinda's Story
Thanksgiving week 2010 took an unexpected turn for 39-year-old Lucinda Piggott. Her husband rushed her to the emergency room when Lucinda began experiencing vaginal bleeding, the product of uterine and ovarian cysts. This bloody experience was just one of many struggles with her female organs. Lucinda suffered from abnormally painful and heavy periods, which plagued her up to three times a month. When Lucinda was 21, her doctor even suggested she have a hysterectomy, but she refused. As she grew older, her periods worsened and seriously affected her quality of life. Continue reading...
Annette's Story
Annette Selph is a 45-year-old hardware sales woman from Live Oak. For years, her annual examinations were normal and produced nothing to be concerned about. Then one day, her exam produced something to be very concerned about. Her primary care doctor told her that tests found cancerous cells, and she would need surgery to remove the dangerous tissue. Continue reading...