Our orthopedic team is comprised of the area's most respected doctors and medical staff, who specialize in all types of orthopedic surgery. Our physicians are joined by a professional team of specially trained nurses, physical therapists, case managers and dietitians to provide a comprehensive, multidisciplinary approach to treating patients. North Florida Regional has a dedicated unit for pre-operative education which includes Ortho Camp, where patients meet with staff for an educational session on their surgery and have the ability to ask questions.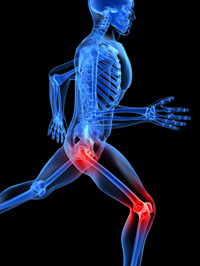 The orthopedic surgeons' spectrum includes diseases of the neck and goes all the way down to the toes. Orthopedic surgeons on staff at NFRMC are highly talented and trained specialists who utilize the most advanced diagnostic and treatment techniques to improve the quality of life of patients.
Orthopedic surgeons at NFRMC continue to take advantage of advanced technology to raise even further the level of quality for patients having joint replacement surgery. BlueCross and BlueShield of Florida, Inc. (BCBSF) has designated NFRMC as a Blue Distinction Center for both Spine Surgery and Knee and Hip Replacement. The Blue Distinction® designation is a symbol of high value on research and evidence-based health and medical information. Blue Distinction Centers are identified as leading institutions that meet clinically validated quality standards and deliver better overall outcomes in patient care.
Knee Replacement Surgery
For patients having knee replacement surgery, robotic navigation increases precision in device placement for better and long-lasting results. For example, the Stryker eNlite Knee Navigation System is designed to improve the surgical performance and clinical outcome of knee replacement surgery. The robotic software navigation package helps facilitate improved decision making for alignment and orientation of instruments, trials and implants. Stryker knee navigation software packages provide surgeons a simplified solution helping make navigated total knee replacements easier procedures to incorporate in the everyday OR environment. Computer assisted surgery may also result in possible shorter hospital stays for patients, decreased complications, improved joint stability and decreased rehabilitation time.
Hip Replacement Surgery
For patients having hip replacement surgery, the Hana Table makes possible the newer anterior approach. It is one of the least invasive surgical options, and many patients undergoing hip replacement surgery are eligible candidates for the anterior hip approach. The procedure requires the Hana Table, an advanced surgical table that makes it possible for surgeons to work in between the muscles, rather than detaching them from the hip or thighbones. This results in minimal tissue disturbance and smaller surgical incisions. The difference between conventional and anterior hip replacement surgeries is significant. Conventional surgery requires strict precautions for the patient, limiting hip motion for six to eight weeks after surgery. Conversely, the anterior approach allows patients to bend their hips freely more quickly and bear full weight when comfortable, ensuring a more rapid return to normal function. Orthopedic surgeons using the anterior approach say it increases precise placement of hip replacement devices, and that translates into better function for patients and surgery that lasts longer.
For More Information
For more information on both Orthopedics and Neurosciences, please contact Consult-a-Nurse® at (800) 611-6913.