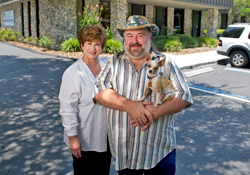 All Matt Lucas wants to do is sing country music and be able to stay awake during the day. The first part was not the issue; the latter was another story.
For years, Matt Lucas said he would fall asleep during the day everywhere he went. He would not just fall asleep – he would fall asleep and then start snoring very loudly. He felt like he couldn't go anywhere because he was too embarrassed. All he would do is stay at home and play with his Chihuahua, Honey, when he wasn't sleeping.
In June 2011, he woke up one day and decided to take hold of the situation. Instead of living with it, he went to his primary care doctor who suggested that he make an appointment with Dr. Robert Greenberg at The Sleep Disorders Center.
"It was like checking into a nice hotel," said Matt about The Sleep Disorders Center.
During his first appointment, he was given a bedroom and told to just wait until he fell asleep and then the sleep study would begin. It didn't take long for him to fall asleep considering what he was going through. His head hit the pillow, and he was asleep in a second.
After his second visit, Matt was fitted for a CPAP machine to help control his snoring and get him the oxygen he needed to feel rested during the day.
Within a week, Matt felt like a new person. He said he owes it all to Dr. Greenberg and The Sleep Disorders Center.
"Dr. Greenberg took the time to help me," said Matt. "He didn't just push me away and give me prescriptions like other doctors had done in the past. He truly cares."
Matt is excited to continue singing country music and said he's even ready to go to a Florida Gators football game!