It was April 2010 and 63-year-old Helen Ann Noegel was getting ready to leave her Turkey Creek home and join her girlfriends for a play. Her cheeriness quickly faded into worry when she discovered blood in her urine.
Fifteen years earlier, Helen Ann was diagnosed with multiple sclerosis (M.S.), an autoimmune disease that affects the brain and spinal cord. While there is no known cure for M.S., treatment focuses on controlling symptoms and helping retain a normal quality of life. Helen Ann has worked hard to keep her life and independence, and she knew that whatever her bleeding meant, she was ready to fight it.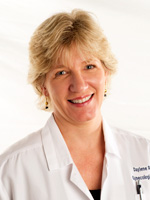 The following day, Helen Ann went to her gynecologist for an endometrial biopsy. A few uneasy days later, her gynecologist called with the results. She had stage one endometrial carcinoma and would need a hysterectomy. He referred her to Gainesville GYN Oncology at North Florida Regional Healthcare. Her physician would be Dr. Daylene Ripley, a gynecologic oncologist with a special interest in minimally invasive surgery to help her patients.
Dr. Ripley explained to Helen Ann that her uterus would need to be removed and that she would perform the hysterectomy using the da Vinci®Surgical System. She explained the many benefits of robotic surgery, one of which is shortened recovery time. This was especially important to Helen Ann. A week before her first bleed, her husband, Larry, had taken a bad fall. In his condition, he would not be able to care for her as well as he would have liked.
"Dr. Ripley was very thorough, very nice and very confident," Helen Ann said. "She made me feel very confident, and I felt like everything was going to be okay."
Right before Helen Ann went under anesthesia, she remembers Larry leaning over her. "I love you," he told her, as she drifted to sleep. Less than three hours later, she woke up and couldn't believe that surgery was already over. She felt no pain and never once needed any pain medicine. Later that afternoon, she chatted and laughed on the phone with her best girlfriend. The next day she was discharged.
Even though she was well aware of the advantages of robotics surgery beforehand, Helen Ann was surprised at her speedy recovery. She was back on her feet almost immediately, never once missing out on her weekly bridge games with the girls.
Following surgery, Helen Ann underwent 25 radiation treatments at The Cancer Center at North Florida Regional Healthcare, completed in August 2010. Today she is enjoying retirement with her husband of 45 years and is looking forward to the years ahead and the time she will fill with her two sons, five grandchildren and her girlfriends.