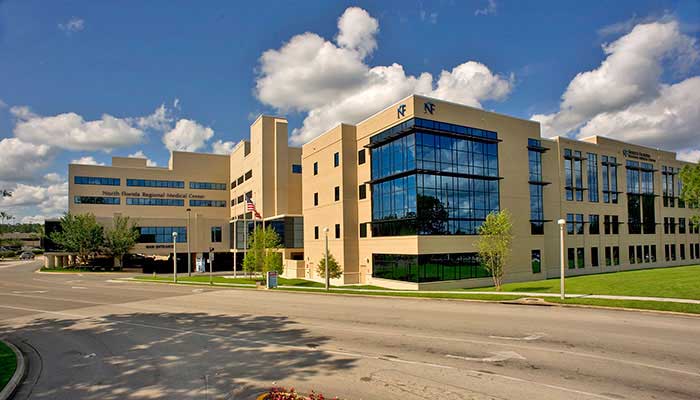 If you think you or a loved one are experiencing a medical emergency, call your doctor or 911 immediately or go to the closest emergency room.
Emergency Room serving the Gainesville community
When you need emergency services, count on North Florida Regional Medical Center, where quality treatment is delivered as quickly as possible by physicians, nurses and providers who care about you.
Our Emergency Department includes the main emergency room, Care Path Area and Dedicated Pediatric ER. Our Care Path area is available for less severe emergencies, which allows us to see our patients as quickly as possible without compromising their care.
Emergency Info
---
To increase the number of patients who can access emergency trained providers, North Florida Regional also has Express ER. Located just two blocks from the hospital, this location offers ER physicians and staff to patients who need more than traditional after-hours primary care but don't believe they need a fully-equipped ER.
North Florida Regional is home to Gainesville's first accredited Chest Pain Center with PCI. As an accredited Chest Pain Center, we can diagnose and treat patients with chest pain faster than other ER. Our ER is the first place someone suffering from a heart attack would receive care. We are also a certified Primary Stroke Center. The hospital has developed a comprehensive system for rapid diagnosis and treatment of stroke patients admitted to the emergency department.
Recognition
---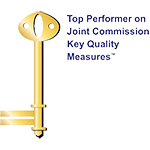 Our ER wait times are available on our website and by texting 'ER' to 23000. *Message and data rates may apply.
Dedicated Pediatric ER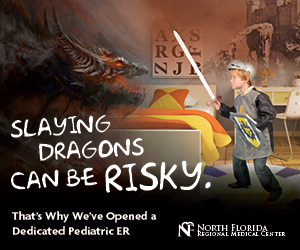 Kids will be kids. And when the bed turns into a fortress, accidents can happen. So when that inevitable break, cut or bruise occurs, bring them to the ER at North Florida Regional Medical Center. We opened our Dedicated Pediatric ER in September 2015, and it is open every day from 11:00am to 11:00pm.
The Dedicated Pediatric ER at North Florida Regional provides excellent emergency care for children, while easing the stress often associated with a visit to a hospital. Parents will be glad to know their children are being cared for by a team of pediatric professionals. The Peds ER hosts a child-friendly atmosphere to soothe anxiety and help children feel more comfortable. Instead of being treated alongside adults with varying injuries, the Pediatric Emergency Room is for kids only.
Health Articles & Tips
---
Real ER Stories
Hear from our patients about the care they received at North Florida Regional Medical Center.