What does it mean to be a Comprehensive Stroke Center?
Being a Comprehensive Stroke Center is the highest honor that a Stroke Center can receive. It is the dedication of our team and our commitment to meeting rigorous requirements that sets our program apart from other institutions. Our multidisciplinary team and facility are ready and equipped with all the resources needed to provide emergency care and therapies to all patients with stroke, from the moment of arrival at our facility to recovery.
Remember, if you or a loved one are experiencing symptoms of a stroke, call 911 immediately.
When someone is experiencing symptoms of a stroke, it is a comfort to know expert help is immediately available. When treating a stroke, time is of the essence. We cannot control when a stroke happens however at NFRMC we are always ready to provide evidence-based, advanced care that supports improving outcomes and recovery after a stroke. We partner with EMS so we know when to call a "stroke alert" so our staff is readily available in the Emergency Department to begin care and treatment the moment the patient arrives at our hospital.
Our stroke team also responds to stroke alerts in other areas of the hospital, providing the same immediate response, assessing the situation, the patient's condition, and enabling us to provide the same wide range of treatment options and care as appropriate, 24/7.
The continuum of stroke care designed to support full recovery:
Emergency Department clinicians and support staff with training and expertise in acute stroke care
Partnership with local EMS - early recognition of stroke and advanced notice to stroke team
Neurological care nursing on a unit with nurses and staff trained to care for patients with stroke
Neurocritical care trained neurologists, cerebrovascular neurosurgeons, intensivists, and nurses with advanced training when intensive neuro critical care is necessary
The latest technology including a state-of-the-art neuro-interventional biplane angiography system
Nurses and staff with advanced training in vascular interventional neurology, procedures, and care
Advanced imaging including MRI and Commutated Tomography (CT) scanning capabilities
Telemedicine service available for stroke patient-neurologist real-time interactive stroke evaluation
Inpatient rehabilitation care by stroke team members that include physical therapists, occupational therapists, speech/language pathologists
FDA Approved Treatment for Acute for Ischemic Stroke
Every stroke is different. Some are more serious than others. All strokes are medical emergencies.
There are two types of strokes. When a blood vessel weakens and ruptures in the brain, causing blood to leak into the brain, this is a hemorrhagic stroke. This type of stroke is rare however very serious and requires immediate emergent medical treatment. The majority of strokes, about 8 out of 10, are ischemic strokes. Ischemic strokes are most often caused by a blood clot that blocks the flow of blood in a blood vessels in or to the brain. When blood flow in a blood vessel to the brain is blocked, brain cells start to die. A medication called Alteplase (tPA) is the "standard of care" and used to quickly dissolve the dangerous clot and restore blood flow to the brain.
When a patient with stroke symptoms arrives at our hospital, our stroke team greets them at the door and works quickly to determine if the patient meets the required medical criteria to receive this treatment. Unfortunately not everyone can be treated with tPA however for those who arrive as quickly as possible after stroke symptoms start, meet criteria, and agree to treatment, an intravenous catheter is placed and treatment with this IV medication is started within minutes. Time lost is brain lost. Our team works very efficiently and quickly. Our median "door to needle times" for tPA administration are consistently below the national goal of less than 60 minutes and our hospital's own target time of less than 45 minutes. Our ability to work so quickly and efficiently is so important for our patients and the restore as much function as possible.
Advanced Stroke Care - Interventional / Endovascular Neurology
North Florida Regional Medical Center proudly offers the most advanced and highest quality of care in the comprehensive treatment of stroke and neurovascular disease to our community. In some cases it is now possible to treat certain types of ischemic strokes up to 24 hours after time of onset, even after the window for treatment with IV tPA has closed. By performing a procedure called mechanical thrombectomy, our highly trained neurointerventional specialists and team are able to provide the latest and most advanced stroke and neurointerventional care. Utilizing state-of-the-art technology, neuroimaging, advanced endovascular techniques, image-guided minimally invasive procedures, and evidenced-based medicine protocols, blood flow can be restored to the blocked blood vessel using a system of tiny catheters equipped to remove the clot. Once the clot is removed, blood begins to flow to the previously blocked area immediately and brain cells get the blood supply they need to survive.
These advances in stroke care offer patients greater opportunity for:
Better outcomes
Reduced disability
Complete resolution of stroke symptoms
Vascular & Interventional Neurological Procedures
Brain Aneurysm coiling
Carotid endarterectomy
Cerebral arterial stenting
Acute stroke thrombectomy
Diagnostic cerebral angiogram
Diagnostic spinal angiography
Treatment/embolization vascular malformations and fistula
For more information about our Spine and Brain Care at NFRMC, call (352)-331-3583.
Awards and Recognition
We are proud of our nationally recognized program and our designation as a certified Comprehensive Stroke Center by DNV-GL Healthcare. This accreditation requires an annual on-site survey and recognizes NFRMC for providing the highest level of competence and care for the treatment of acute stroke.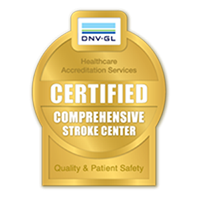 In addition to our certification, NFRMC has been recognized by the American Heart Association for our achievement in the Get With The Guidelines – Stroke Gold Plus and Target: Stroke Elite Plus Quality Achievement Award program, an award which demonstrates our commitment to aligning with and meeting the requirements of the latest research-based treatment guidelines.
We are truly dedicated to ensuring you and your family receive the most efficient, high quality, best stroke care possible.
The right choice for comprehensive treatment of Stroke, Neurological Diseases and Disorders