At North Florida Regional Medical Center, we are always working on ways to make the patient experience at our hospital even better. Among our latest efforts is an improvement to the phone lines in our North Tower. This improvement means telephone numbers in most patient rooms in the North Tower will change beginning Wednesday, October 16, 2013. Please click on the link to view a guide with all of those new telephone numbers.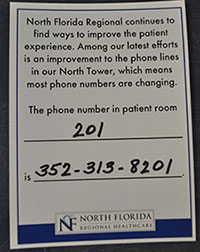 Feel free to ask staff at information desks or on the floors to write the telephone number for the room of your loved one on a special card we have designed. We want to make it as easy as possible for you to reach your loved one. If you have questions or need help at any time, please ask any member of our staff.
Thank you for the opportunity to care for you and your family. We are honored by your trust in us.