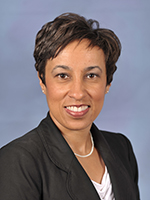 In July 2015, North Florida Regional Medical Center (NFRMC) welcomed Natalie Ransom, RN, MSN, CENP, as our Vice-President and Chief Nursing Officer (CNO). While this is a new role for Natalie at NFRMC, it is also a homecoming for her. She began her nursing career in 1997 at North Florida Regional as a student nurse tech and became an RN and Clinical Coordinator and Director of Medical/Surgical Services. In 2011, she accepted the position of Associate Chief Nursing Officer at Mountain View Hospital in Las Vegas, Nevada, before becoming the Chief Nursing Officer at Southern Hills Medical Center in Las Vegas and then returning in July 2013, as CNO at Mountain View Hospital.
During her time at North Florida Regional Medical Center, Natalie received the 2010 Frist Award for her efforts to help save the life of an employee who became critically ill while travelling overseas. In 2009, she was among those selected for the hospital's annual Director Awards.
Natalie considers it an honor and a pleasure to rejoin the team at North Florida Regional Medical Center because of what she knows about the nurses, providers and physicians who are all so dedicated to caring for patients in our community. She is thrilled that she had this opportunity to return to Gainesville and North Central Florida. She says that for her and her family, it is truly like coming home.
A member of the American Organization of Nurse Executives (AONE), Natalie is an AONE-Certified Executive in Nursing Practice. She is also a member of the American College of Healthcare Executives (ACHE). She holds a Bachelor of Science degree in Nursing and a Master of Science degree in Nursing Administration. She is also pursuing her Doctorate in Nursing Practice with anticipation of graduation in 2017.