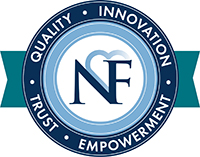 Our vision
To be recognized nationally as the leader in outstanding patient care, quality and service.
Our mission
We are committed to enriching our community through extraordinary healthcare with unmatched dedication and compassion.
Our core values
Quality
Pursuing the highest standards of clinical and service excellence.
Innovation
Developing new ways to enhance patient care through best practices and advanced technologies.
Trust
Inspiring confidence in the healthcare and support teams through competence, integrity and accountability; believing that the best from each of us inspires the best in all of us.
Empowerment
Strengthening patient participation in their healthcare decisions and encouraging employee voice by recognizing their contributions.
HCA Healthcare mission and vision
Above all else, we are committed to the care and improvement of human life.
In pursuit of our mission, we believe the following value statements are essential and timeless:
We recognize and affirm the unique and intrinsic worth of each individual.
We treat all those we serve with compassion and kindness.
We trust our colleagues as valuable members of our healthcare team and pledge to treat one another with loyalty, respect, and dignity.
We act with absolute honesty, integrity, and fairness in the way we conduct our business and the way we live our lives.