Comprehensive spine services are an important part of The Neuroscience Center. Our high volume, award-winning program includes the following:
Decompressive & Reconstruction Procedures
Disc Replacement Surgery
Laminectomy
Minimally-invasive Spinal Fusion Hardware

Cervical Fusion
Lumbar Fusion
SI Joint Fusion

Pain Pumps
Spinal Cord Stimulation
Spinal Cord Tumors & Cancer Care
Spine Trauma
---
Board-certified Neurosurgeons Eric Scott, MD, John Stevenson, MD, Steven Reid, MD, Steven Bailey, MD, and Gregory Sherr, MD play a critical role in The Neuroscience Center of North Florida Regional Healthcare. Spine Surgeons Michael MacMillan, MD and Troy Trimble, MD are also a part of the Neuroscience Center.
---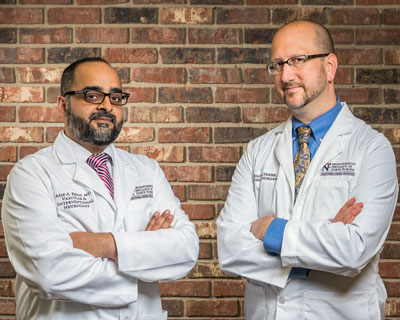 Dr. Gregory Sherr and Dr. Asif Khan, along with their team of support staff, are proud to offer a comprehensive range of services, including brain, spine, and cerebral vascular services; this includes tumor removal, spinal decompressive and reconstructive procedures, trauma-based injuries, neurosurgical critical care, and both minimally invasive and open aneurysm procedures.
---
North Florida Regional has invested significantly in advanced technology used by neurosurgeons. That technology includes the O-Arm, a system that gives surgeons quick, mid-procedure access to high-resolution images that improve accuracy and reduce the chances patients may need to undergo a revision procedure.
---
North Florida Regional invested in Medtronic's StealthStation® S7™ neuronavigation system, which provides advanced mapping technology for spine and cranial procedures. Other examples of advanced technology include the Jackson Table and Andrews Table to incorporate the benefits of patient positioning and Leica Neurosurgical Microscopes for microsurgery. Intraoperative Neuromonitoring and Neurophysiology are also available when appropriate for patients.