Have Diabetes Questions? We Have Answers.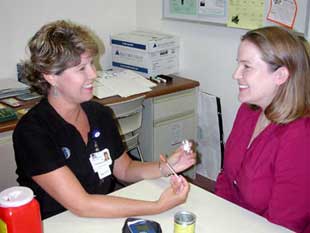 The Diabetes Center at North Florida Regional Medical Center is a unique treatment center offering educational programs for the treatment and management of diabetes. North Florida Regional's program is nationally recognized by the American Diabetes Association for providing quality outpatient diabetes education.
The Diabetes Center was the first program in the area to receive this recognition and has maintained this for the past 15 years. Leading physicians nationwide and the American Diabetes Association are recommending that patients with diabetes take advantage of educational programs to help manage the disease.
Insurance is accepted and services are covered. Call your insurance company to confirm your coverage.
Diabetes Support Group
North Florida Regional Healthcare is proud to reveal its newest community resource: a Diabetes Support Group. The group is led by expert providers in North Florida Regional's Diabetes Center who are all registered dietitians and certified diabetes educators. The main objective of this new group is to offer information and tips on how to treat, live with and, in some cases, prevent diabetes altogether. These support group meetings are open to patients and families with diabetes, as well as those with pre-diabetes and those at risk of diabetes who want more information. They will be held quarterly in the following months - January, April, July and October.

North Florida Regional Medical Center Campus
Medical Arts Building, Suite 104

Please contact the Diabetes Center at (352) 333-5141 if you have questions
Additional Resources