Department of Pharmacy Services
The Department of Pharmacy serves patients of NFRMC from the main pharmacy, as well as pharmacy satellites throughout the hospital. The integrative practice model and decentralized practice provides increased opportunity for pharmacist collaboration with physicians, nurses and patients to optimize medication therapy. Our pharmacists are respected members of the healthcare team and work closely with caregivers throughout the organization.
The following rotations are available in the inpatient setting:
Administration
Advanced Hospital Practice
Adult Medicine
Critical Care
Infectious Diseases
Medication Safety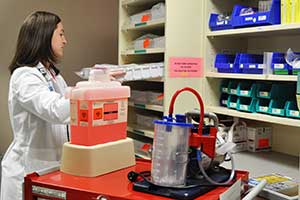 Mission
The mission of the Department of Pharmacy is to provide the highest quality pharmaceutical care through excellence in clinical services and collaborative practices with all members of the healthcare team. Our pharmacists are respected members of the healthcare team and work synergistically with caregivers and patients throughout North Florida Regional Healthcare. We continually strive to improve patient care and operational efficiencies by applying the most innovative technologies. Guided by relentless focus, we achieve greatness in the promotion of safe and effective medication use. Pharmaceutical care is our business; positive outcomes are the results.
Vision
The Department of Pharmacy's vision is to create an environment where our staff can establish itself as a source of pride by advancing the health and well-being of North Florida Regional Healthcare patients and the community members it serves.